On a Sunday afternoon in 1997 while driving along State Highway 144 near Stephensport, Kentucky, Susan Dyer and her husband passed the Joseph Holt Mansion and her life changed forever. Originally built in the 1850s with some features dating to the 1870s — once part of Holt's 10,000-acre estate — the home had been vacant for more than 50 years and deteriorated due to time, the elements, and lack of upkeep.
Joseph Holt Mansion tells the story of Susan's tireless efforts to save the Holt mansion, initially by bringing awareness to the historical importance of Judge Joseph Holt and the Holt home to the people of Breckinridge County, Kentucky. Although told it couldn't be restored, Susan began a campaign to restore the mansion to its former glory. Joseph Holt Mansion describes Susan's "never say never" attitude and the thousands of hours spent in fund raising, grant writing, and leading the charge along with other volunteers and public officials to save the Holt mansion.
Judge Joseph Holt was born in Breckinridge County in 1807 and was buried in the Holt Family Cemetery east of the mansion in 1894. The mansion was named to the National Register of Historic Places in 1976.
Read Joseph Holt Mansion and learn the story behind the efforts to restore a true piece of Kentucky heritage.
U.S Army JAG Corp celebrates 248th birthday at National Historic Place in Breckinridge County
The Ida Lee Willis Preservation Foundation
Grassroots Preservation Award
May 17, 2023
Recently, one of Breckinridge County's own Susan B. Dyer and the Friends of the Holt Home, Inc. received The Ida Lee Willis Memorial Foundation Grassroots Preservation Award in Maysville, Kentucky on May 17.
The purpose of the foundation is to recognize and honor worthy historic preservation efforts of all sizes across the Commonwealth.  Since the foundation's beginning they have done this by sponsoring Kentucky's signature preservation awards each year to highlight outstanding projects, service, and commitment. Nominations for the awards are invited from the public, reviewed by a panel of judges representing the foundation, state agencies and affiliated nonprofits. The awards are presented at an annual ceremony each May recognized as National Historic Preservation Month.
Each year many individuals, businesses, organizations, and local governments make significant contributions to preservation of Kentucky's heritage. Through rehabilitation of an important building or structure, advocacy, investment of time or resources, or a lifetime commitment to encouraging and promoting historic preservation in the Commonwealth, all demonstrate an understanding of and appreciation for value of preservation and reusing Kentucky's historic resources and protecting archaeological sites.
Since 1979 the Ida Lee Willis Foundation was chartered in honor of Ida Lee Willis, the first state historic preservation officer and director of the Kentucky Heritage Commission known today as the Kentucky Heritage Council/ State Historic Preservation Office.
Save the Judge Holt Home facebook page
LTG Charles Pede, 40th TJAG Visits Holt Home
Susan Dyer receiving a medal from LTC Charles Pede, 40th TJAG on his visit to the Holt Home
The Judge Advocate General of The United States Army shaking hands with Susan Dyer. Work continues to make the home a National meeting place!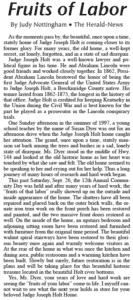 Photo credit Judy Nottingham and the Breckinridge County- Herald News
Proceeds from the sale of this book will also help other communities and organizations preserve their history through Our American Heritage Project, a non-profit organization.
"Preservation of the Holt Home is a triumph of commitment, perseverance and passion. A gold standard for others."
-
Byron Crawford, Kentucky Living Magazine
---
"Joseph Holt has been a misunderstood and forgotten hero in America and Kentucky. Our hope is to get this great man's story told."
-
Dwight D. Butler, former Kentucky State Representative
---
"Susan Dyer's decades-long journey to restore the historic mansion of a historic Kentucky figure is a story of dedication, perseverance, and a willingness to overcome. It's also a how-to account for any restoration enthusiast."
-
Ed Ford, author
---
"Every community should be so lucky to have an individual such as Susan Dyer. Susan has worked tirelessly to see the Holt house, an important piece of history and link to Lincoln heritage, saved for future generations. Her efforts have taken her from the courthouse to the statehouse to the US Capitol seeking funds and recognition for preservation and restoration. What a joy it is to see her work pay off! As simply a residence, this home is a magnificent piece of history in itself representing an era of Kentucky's past that should not be forgotten. Yet the rich history associated with Joseph Holt and his intertwining with Lincoln makes it all the more special. If only those walls could talk! Thanks Susan for making Kentucky's and our nation's heritage a bit richer!"
-
Judge Tommy Turner, ALBC commissioner and Co-Chair, Kentucky Lincoln Bicentennial Commission 
---
Book Details
Author: Susan Dyer

Pages: 160 pages
Product Dimensions: 8.5x11
ISBN: 978-1-948901-06-2
Cover Type: Hardcover
Case Quantity: 12
Guest speaker for the Hometowner's Club Cecilian Bank,
Joseph Holt Mansion: Saving and Restoring the Home of Lincoln's Judge Advocate General will be available for signing after speaking.
Prospect Point Cecilian Bank
2920 Ring Road
Elizabethtown, KY 42701
March 13, 2019 10:00 am-4:00 pm
---
Barnes and Noble Elizabethtown
Susan B.  Dyer will be signing her new book Joseph Holt Mansion: Saving and Restoring
the Home of Lincoln's Judge Advocate General
1980 N. Dixie HWY
Elizabethtown, KY 42701
March 30, 2019 12:00 pm-4:00 pm
---
SOKY Book Fest 2019
 Susan B. Dyer will be signing Joseph Holt Mansion: Saving and Restoring the Home of Lincoln's Judge Advocate General
Knicely Conference Center
Western Kentucky University
2355 Nashville Road
Bowling Green, KY 42101
April 27, 2019 9:00 am-3:00 pm
---
Guest Speaker for the Meade Co. Historical & Archaeological Preservation Society
Meade County History Museum
281 Oakland Road
Brandenburg, KY 40108
Susan will be speaking prior to the presentation on WMMG , 93.5 radio about her newest book Joseph Holt Mansion: Saving and Restoring the Home of Lincoln's Judge Advocate General from 11:00 a.m.- 12:00 noon ET in Brandenburg and will sign books from 4:30 to 6:00 p.m.  before the meeting at the Meade Co. History Museum.
June 10, 2019 6:00 pm-
---
Have any questions or want to get in touch?