One of Kentucky's highest-ranking national figures, the story of Judge Joseph Holt and his remarkable life has remained untold…until now.
Susan Dyer dove in with both hands, uncovering a brilliant legal mind who had been appointed cabinet posts under several presidents in such diverse positions as Commissioner of Patents, Postmaster General, Secretary of War, and finally, our nation's first-ever Judge Advocate General. In this position, he had the tremendous responsibility of prosecuting the conspirators who had slain the very president who had appointed him to that office, President Abraham Lincoln.
Similarly fascinating, this book tells the story of Holt Mansion, its many mysteries, legends and historic events and the immense project to acquire and restore it to its antebellum splendor that is underway today.
No Kentucky collection or library will be complete without this amazing account.
U.S Army JAG Corp celebrates 248th birthday at National Historic Place in Breckinridge County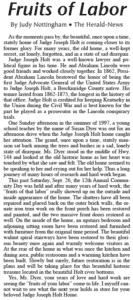 Photo credit Judy Nottingham and the Breckinridge County- Herald News
Proceeds from the sale of this book will also help other communities and organizations preserve their history through Our American Heritage Project, a non-profit organization.
Book Details
Author: Susan Dyer

Pages: 256 pages
Product Dimensions: 6x9
ISBN: 978-1-935001-26-3
Cover Type: Hardcover
Case Quantity: 24
Have any questions or want to get in touch?