When American pioneers began to settle the Springfield area in the mid-1830s, they brought their religious faith and practices with them, worshiping in homes with circuit riding preachers traveling from town to town. As the population grew, so did the development of permanent church houses, beginning with two churches in 1852: Methodist and Presbyterian.
Through the years, Springfield has remained a center for faith and worship, with over fifty-eight established houses in the early 20th century, and nearly one hundred fifty today.
Pioneer Churches of Springfield, Missouri is the first published record of nearly forty churches that have remained active for over 100 years—all were established prior to 1915. Enhanced with nearly 150 photographs and illustrations, the book shows the diversity and growth of Springfield as a center for religious life for all faiths.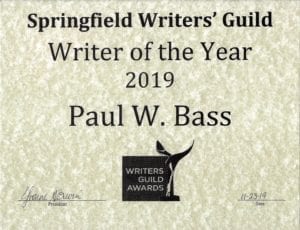 Paul W. Bass receives the first annual Writer of the Year Award 2019 from the Springfield Writers Guild
Proceeds from the sale of this book will also help other communities and organizations preserve their history through Our American Heritage Project, a non-profit organization.
Book Details
Author: Cecilia M. Chittenden, Paul W. Bass

Pages: 240 pages
Product Dimensions: 6x9
ISBN: 978-1-942613-71-8
Cover Type: Hardcover
Case Quantity:
Have any questions or want to get in touch?